Prince Harry Secretly Visits Meghan Markle in Toronto: Inside Their Romantic Weekend
It's no secret that Prince Harry treats Meghan Markle like a princess.
Multiple sources tell E! News exclusively that the 32-year-old prince flew out to Toronto June 17 to visit his 35-year-old girlfriend, who had been busy shooting the seventh season of USA's hit legal series Suits. "They hadn't been together for a while, so it was exciting for both to see each other," one of the sources says. "Harry had planned to fly out this time as he felt it was unfair for Meghan to always be the one flying around, and she'd just come back from the U.S."
Less than a week earlier, Meghan joined her co-stars, including Patrick J. Adams and Gabriel Macht, for a script reading to commemorate their 100th episode at the ATX Television Festival. She returned to Toronto afterward, and Harry joined her soon after. According to the source, they "relaxed" at home, "cooking meals together and eating outside in the garden a lot. It's Meghan's favorite 'room' in the house. She calls it a room because it's the perfect patio space."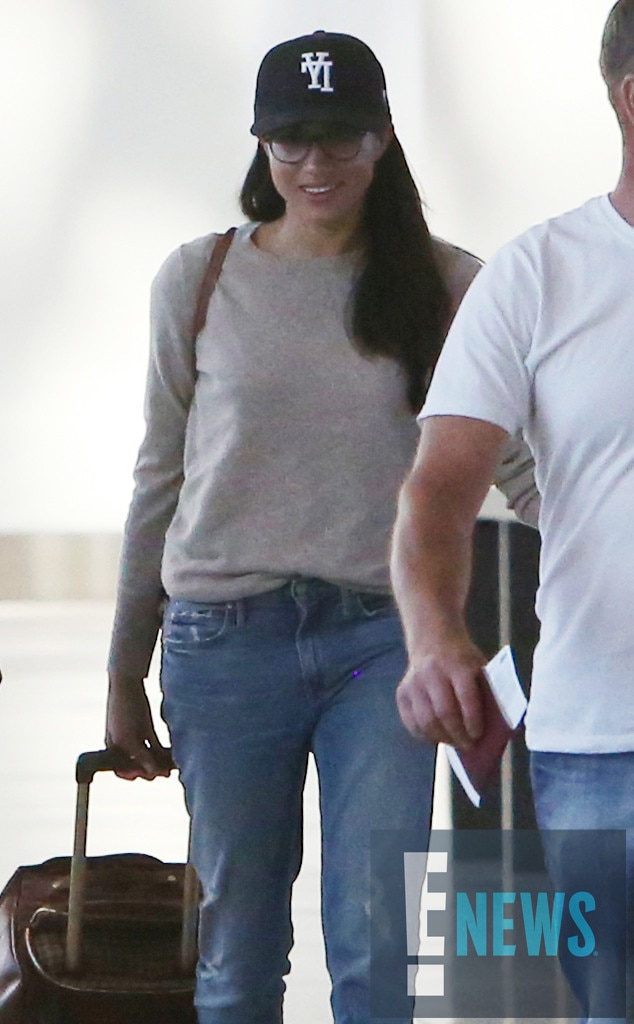 TheImageDirect.com
Harry and Meghan wanted to fly under the radar, though they did occasionally pop out to "a couple of favorite spots where people don't immediately run to the press to say they're there," the source tells E! News. One of those places is the home of two close friends, whom the pair visited over the weekend. "Harry and Meghan spent time at Meghan's friend's home, who are now Harry's friends, too. Harry loves being part of her world in Toronto," the source says. "It's nice getting away from London every now and then—although they both love London, too."
(Harry last visited Meghan in Toronto just before Easter.)
In fact, a second insider says Meghan is prepared to move to the U.K. to be closer to Harry. The couple is "in an extremely solid and happy place at the moment," the insider adds. "They aren't rushing ahead at a ridiculous speed or making rash decisions. But, yes, they love each other very much and neither could imagine being without the other. They speak about the future a lot, whether it's getting each other's take on future career plans or where they'll be as a couple. They talk about living in London—Meghan really sees herself moving, and he really wants that."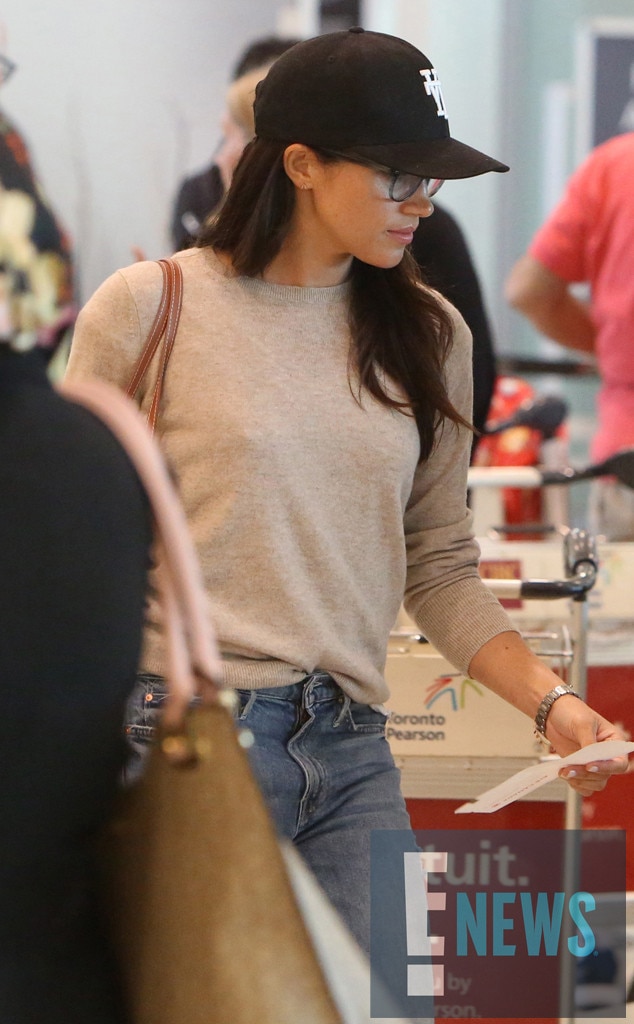 TheImageDirect.com
Harry's trip was a brief one, as he traveled to Malawi June 20. He is camping out in Liwonde National Park, where he's assisting with the elephants, and should return to London Tuesday.
(Another insider denies Harry flew to Toronto to see Meghan after attending Trooping the Colour, insisting that he "hasn't been to Toronto in a month" and was "100 percent" in Africa.)
The couple will be reunited sooner than later.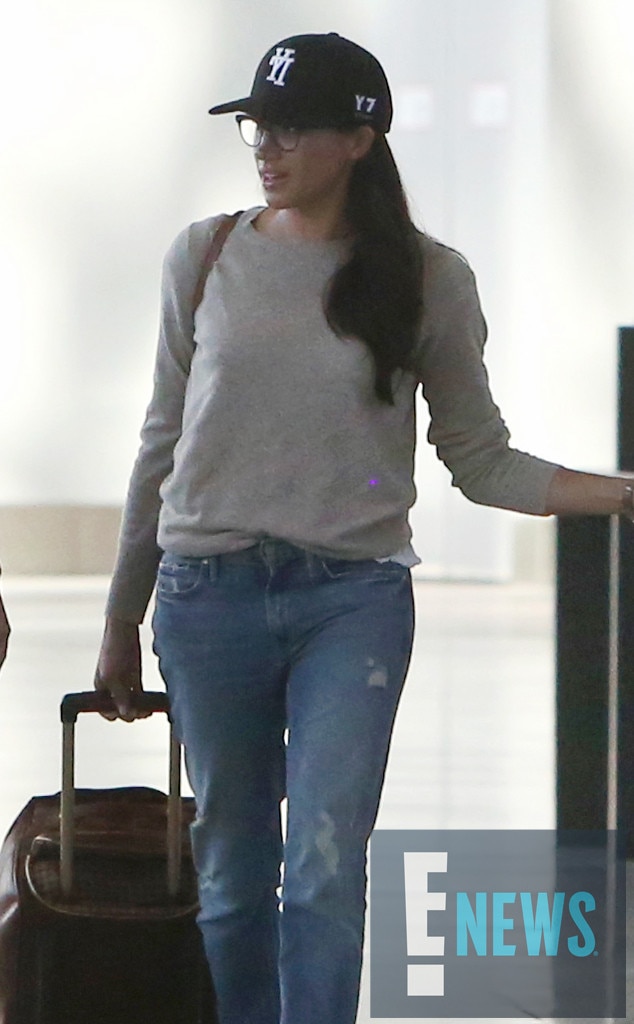 TheImageDirect.com
Meghan was photographed flying out of Toronto late Sunday night. "She looked happy and pleased to be greeted by airport personnel," says a source at the airport, who adds that the actress didn't mention her boyfriend by name. "She carried her one bag and was accompanied by private security from the car to the gate." Meghan arrived in London early Monday morning and is staying at Kensington Palace. And though the main reason for her trip is to spend time with Harry, a source says she has "other work" to attend to while she's visiting the U.K. "Harry and Meghan have deep conversations," a source close to Meghan says. "Harry really has grown up from his wild days, and this is the first relationship he feels like there is a possible future."
Harry has been thinking about his future quite a bit lately, and he recently told Newsweek maintaining an "ordinary life" is paramount. "My mother [Princess Diana] took a huge part in showing me an ordinary life, including taking me and my brother [Prince William] to see homeless people. Thank goodness I'm not completely cut off from reality. People would be amazed by the ordinary life William and I live. I do my own shopping. Sometimes, when I come away from the meat counter in my local supermarket, I worry someone will snap me with their phone. But I am determined to have a relatively normal life, and if I am lucky enough to have children, they can have one too," Harry said. "Even if I was king, I would do my own shopping."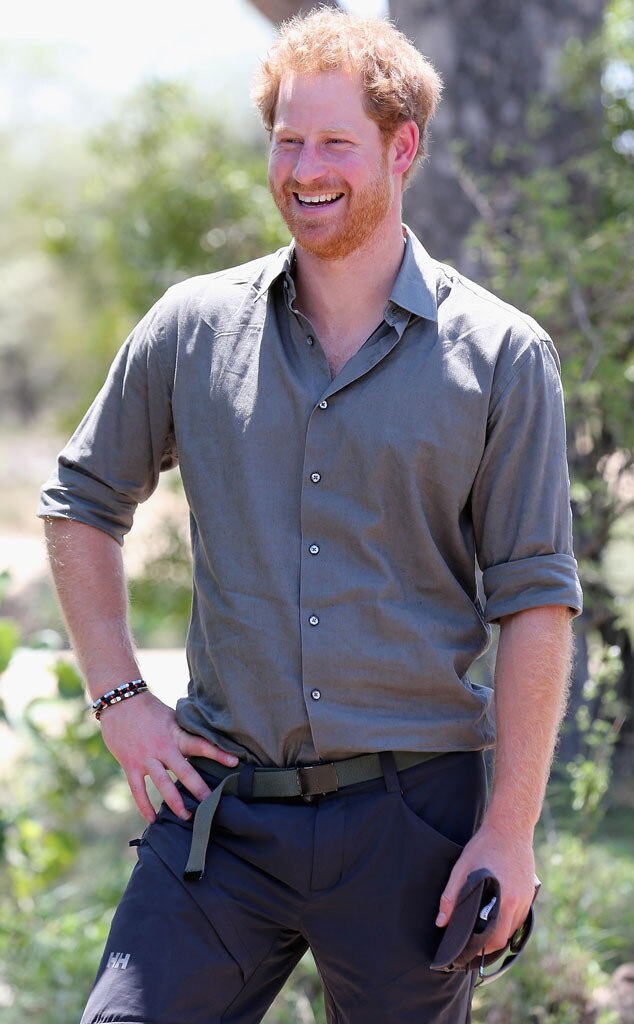 Chris Jackson/Getty Images
If the royal family seems more "ordinary" than ever before, so be it—because like his late mother, Harry is a man of the people. "It's a tricky balancing act. We don't want to dilute the magic," the prince admitted. "The British public and the whole world need institutions like it."
Harry's trip to Malawi was planned "long in advance" and not, as one media outlet put it, arranged as a means for him to hide out after his Newsweek interview made national news. "Some of those quotes were wholly misunderstood and taken out of context," a Harry insider tells E! News. "Of course there isn't anyone who sits there and dreams about becoming King or Queen, and that's what Harry was getting at. The point is, it's something you're born into. You don't get the choice. If/when that day comes, you just get on with it to the best of your ability."
"It's fair to say there were was a little disappointment with way the Newsweek article was interpreted, but it wasn't anything that caused Harry to get in trouble. How the British media handled the story was the most frustrating part. It's been rather unfortunate," the source adds.
But Harry, who entered therapy in his late twenties, isn't one to dwell in a place of negativity. "Harry's focused on his work and has a number of exciting projects on the go. Everything he's working on now is back-to-back and takes him right towards the end of the year," the Harry insider says. "He thought last year was great, but 2017 is shaping up to be the best of his life."
Harry and Meghan are in a "solid, strong place" at the moment and are "very future focused," the insider tells E! News. "They talk about their future plans together all the time. There's no doubt that he won't propose before the year is out and it won't come as a surprise to Meghan."